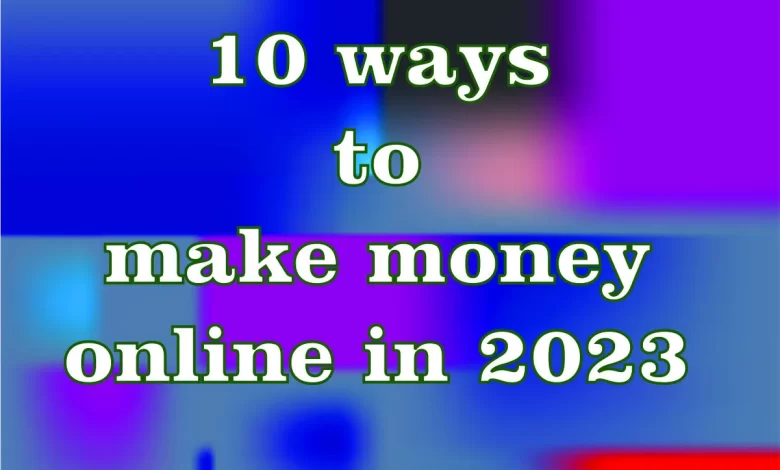 Do you want to make money, but you don't know where to start? Don't worry, we have got you covered.
And you are not alone. Some 18% of adults performed a side job in the previous month to help them make extra money and, of those, 65% spent less than 20 hours doing those jobs during that period, according to a report by the Economic Well-Being of U.S. Households in 2021 report, released in 2022 by the Board of Governors of the Federal Reserve System.
We rounded up 20 real and simple ways to make money online at home or out . For each side job, we list details like what is required get started, age requirements and how long it takes to get paid. While many people want to make money fast, don't discount the "slow" jobs, as they may pay more in the long run.
How to make money online
Making money online is the sweet spot people look for in the 21st century economy. Whether you want to be a six-figure social media influencer, or you are just looking to supplement your regular income with some online side jobs, we've found some number of options.
1. Freelance online
Is easy to make money online through websites such as Upwork, Fiverr and Freelancer.com. These websites offer opportunities to offer a variety of freelance jobs, such as data entry, programming, design, marketing, writing, and being a virtual assistant. Are you fluent in a second language? Check these sites Gengo or Blend Express, or drum up business through a site of your own. No matter what freelancing you offer, keep track of the going rate for the kind of work you provide so you know if you're charging too much or too little. Learn how to get started on Upwork.
Total time: It can take a while to get your first order.
Setup: You can set it up within 24 hours.
How easy to start: Is Easy to, if you have the experience of what you are offering.
How fast you'll get paid: Varies from site to site.
You have to know
Upwork can approve your profile within 24 hours. But keep in mind it can take some time to have your first freelance order.
Payment varies from site to site. On Fiverr, you are paid when the work order is completed, but you cannot withdraw your funds for 14 days. On Upwork, you are paid after you and your client review the work, 10 days after the billing period ends.
Things Required
Fiverr sets the age requirement at 13 years. Upwork requires users to be at least 18 years. And Freelancer.com requires users to be at least 16 years.
Some of the sites require you be a U.S. citizen or permanent resident.
2. Websites and Apps Test
Another way to make money Online from home is on sites like UserTesting.com. You will get paid for your review on how well or not so, certain websites and an apps looks and worked. You will be required to complete a short test to be accepted, then you will be paid depending on the test type you performed. UserTesting.com doesn't disclose an exact amount you will be paid.
Total time: Approval time can vary from site to site.
Setup: In less than an hour.
How easy to start: Is easy, if you have the complete a sample test and tech gear.
Age threshold: At least 18 years.
How fast you'll get paid: Within Seven days.
You have to know
You have to complete a test as part of the application process.
You will start receiving testing jobs after your application is approved.
The time for approval can vary from site to site.
You get paid within seven days after completing a website or app test and review.
Payment is via PayPal.
Things Required
You need to be at least 18 years old.
You need to have a computer, internet connection and microphone.
Mobile apps tests also need an Android or iOS mobile phone or tablet.
Some sites may have language requirements (like UserTesting.com requires applicants to speaks English or German).
3. Pick up jobs on Amazon Mechanical Turk
Although we are in the era of automation, some jobs still require a human being to be done. many companies usually outsource those jobs via services like Amazon's Mechanical Turk. As a "worker," the tasks you will be assigned can be tedious like transcribing videos, tagging images, classifying receipts and will take anywhere from a few minutes to a few hours. Temporary employers may set the price for each task and get to approve the finished product before you get paid. These can leave room for scams, so do your own research. And Join a community like the MTurk Crowd forum, which can steer you away from shifty dealers and scammers. These communities and fellow workers can answer questions and give a idea of how much money you can expect to make for a job.
Total time: It can take Several days to find out if you are approved.
Setup: Depends on the task you choose to offer.
How easy to start: Easy if you have certain skills and have knowledge about internet.
Age threshold: at least 18+.
How fast you'll get paid: You get paid upon completing the task.
You have to know
It is not clear how long it takes Amazon to review your application, but according to the MTurk sub and reddit, it take several days to know if you were approved or denied.
After you submitted your work, the requester has 30 days to approve it or reject it.
You can deposit your earnings into your bank account or put it on an Amazon gift card.
Things Required
You are Required to be at least 18 to register for Mechanical Turk.
You are Required need an Amazon account to register for Mechanical Turk.
4. Take Online surveys for money
You can make money online from home by taking online surveys. Survey sites don't usually offer a big amount, and many of the sites are useful for earning gift cards than cash. These are some of the more popular survey sites Swagbucks and Survey Junkie
Total time: It will take only a while.
Setup: Just few minutes.
How easy to start: Very easy, Just register and start.
Age threshold: At least 13 to 18 years.
How fast you'll get paid: Varies from site to site.
You have to know
Survey sites can be an option for how to make money online for beginners because you will register with a site and start taking surveys in a matter of few minutes.
The time it takes to get paid varies from site to site and how much time you spend taking surveys.
Some of the sites let you cash out only after you reach a minimum earnings threshold.
Other survey sites have points system, which can be redeemed for cash (via PayPal) or gift cards.
Things Required
Most of the survey sites have a minimum age requirement, which ranges from 13 to 18 (depending on the site you choose).
Individual surveys offer may have specific requirements. Don't be surprised if you are not qualified from a survey without much explanation .
5. Make money as an affiliate with your blog
If you are a blogger who gets decent traffic, you could make more money by joining an affiliate networks. Affiliates (you) get paid when someone clicks through from the website to the partner site and buys something there or perform a task. Many site owners make a lot of money this way.
Total time: It will take quite a while to build an audience and decent traffic.
Setup: With blog templates, building a site is easy you just need some technical know how.
How easy to start: Starting is not that difficult. But Creating regular content may be the issue.
Age threshold: Any age.
How fast you'll get paid: A month or so but varies from site to site.
You have to know
You need a blog, social media account and create online presence that draws a healthy amount of traffic each month.
Then, you have to apply for and be approved by an affiliate marketing network like CJ Affiliate, ShareASale, FlexOffers, Rakuten Advertising or Amazon Associates.
Payment schedules and thresholds vary by affiliate network to another, but you may have to wait at least a month or two for your first payment.
Amazon Associates pays 60 days after the end of the calendar month in which they were earned. And you must have at least $10 for earnings to be disbursed.
ShareASale pays out earnings on the 20th of each month.
Things Required
A blog, and a social media account that attracts a steady and decent visitors continuously.
6. Sell your wares on Etsy
Do you have a penchant for woodworking, jewelry-making, embroidery or pottery? Sell your goods on Etsy, the go-to site for artisans selling home goods, art and knickknacks. Etsy boasted about 96 million active buyers and grossed over $13.5 billion in merchandise sales in 2021, according to data from Statista.
Total time: It might take a while for customers to find you.
Setup: Can be quite a long time.
How easy to start: quit easy.
Age threshold: At least 13+.
How fast you'll get paid: From the following day to seven days after a sale.
You have to know
Opening an Etsy shop is the easy part. It can be done in a few minutes to hours.
The preparation work before you open up shop is more time-consuming. You need merchandise to sell, photos and descriptions to post, a nice name for your shop and a business plan to help you succeed. Once that's done, you'll still need to find customers. Depending on what you're selling, that could take days to weeks.
Once you sold an item, payment is deposited into your Etsy Payments account.
After your first 90 days as a seller on Etsy, funds are available for withdrawal the next business day.
Things Required
Even if you are under age 18, you can sell on Etsy.
You need to have all necessary rights to the merchandise sold in your shop.
7. Get revenue from your blog or YouTube channel with advertisement
Turn your dog, cat and fish videos into cash videos. If your YouTube videos or blog posts draw a big traffic, you may be able to make money from advertising. YouTube sets 1,000 subscribers as the requirement creators must make before applying for the YouTube Partners Program. YouTube Partners then get access to Google AdSense. The service is free, but there are requirements you must meet.
Total time: It can take several weeks to months to get up and running.
Setup: Not that hard, but required some know how.
How easy to start: Depends on how good you are at producing interesting and quality videos.
Age threshold: At least 18+.
How fast you'll get paid: Could take a long while to earn the first payout; then monthly.
You have to know
Signing up for Google AdSense is pretty easy.
Allow at least two months for ad revenue to start growing.
You need to earn at least $100 before you are eligible for a payout.
Once you hit the $100 threshold, earnings are issued between the 21st and 26th of the month. It can take 3 to 10 days to receive a payment via electronic funds transfer and up to 15 days to receive payment as a wire transfer.
Things Required
A website that has been active for at least six months.
For YouTube, you need more than 1,000 subscribers and 4000 watching hours.
You must be at least 18 years.
8. Become a social media influencer (an Instagram influencer)
Many companies now are using Instagram influencers (people with large, dedicated followings on the platform) to advertise their products. You can get in on the action by applying for opportunities via a marketing platform like Open Influence or Aspire, or by contacting the brands you want to work with. Read more about how to make money on Instagram. (You can also make money on TikTok this way.)
Total time: You will need to stick with it.
Setup: Quick and easy.
How easy to start: Not that easy. It's a very competitive platform you have to be active.
Age threshold: at least 13 years.
How fast you'll get paid: Varies on partnerships.
You have to know
Things Required
Creating an Instagram account is quick, but building a following takes a while.
Once you have the numbers, you'll need to find paid opportunities. You can do this via affiliate networks or by pitching brands you want to work with.
The time to receive your payment will depend on the terms of your agreement, but affiliate networks typically pay out earnings the month after a campaign is completed.
An Instagram account with a dedicated and engaged followers.
You'll also need to meet the requirements of any affiliate network.
9. Sell your Art work and photography
Turn your art work and photographs into cash via sites like Fine Art America, which lets you upload your images to sell as prints, T-shirts, phone cases and more. Other marketplaces for photographers include SmugMug, 500px and PhotoShelter. Some sites require a subscription but may provide features ranging from cloud storage to password-protected galleries and a customized website.
Total time: Buyers need to find you and like your work.
Setup: Just a few hours to days.
How easy to start: If you have a library of photos, you are on the way.
Age threshold: Any age.
How fast you'll get paid: Depends on your sales platform you are using.
You have to know
You can set up a profile with sites like SmugMug, PhotoShelter or Fine Art America in a few minutes to hours.
Payment varies widely depending on the site your are using.
PhotoShelter: Issued Payment at time of sale to your chosen payment method (PayPal, Stripe, etc.).
Fine Art America: Payment issued after 30-day return period expires. Sent on the 15th of each month.
SmugMug: You can request payment be issued the following month if you have a balance of at least $5.
Things Required
Requirements vary from site to site, but you need to have all necessary rights to the images you sell.
10. Offer a private tutorial
Parlay your science, math, foreign-language or test-prep expertise into a lucrative side job by becoming a private tutor. You can tutor people online or in-person or offer a paid courses online. What you charge can depend on your experience, expertise and what's in demand. To get started, you have to see what types of tutors are needed on Craigslist or create a profile on sites like Tutor.com or Care.com. You can also advertise your services at local schools and community centers.
Total time: Varies by subject matter. Some companies might require a minimum availability per week (e.g., Tutor.com requires 5 hours).
Setup: Can be a bit involved.
How easy to start: Students will have to find you, and that might take a while.
Age threshold: Any.
How fast you'll get paid: Usually pretty fast; often right away.
You have to know
Startup time depends on demand in your area. It could take a while before you get your first student.
If you haven't tutored before, you'll want to allow for time to prep so students feel like they're getting the most out of their time with you.
How quickly you get paid depends on whether you tutor via a platform or in-person; either way, it likely won't take long.
Things Required
You will need deep knowledge in an area that people need help understanding, like mathematics, a foreign language or test preparation.
Educational requirements might apply. Some tutors might be required to be currently enrolled in a 4-year university or have at least a bachelor's degree from an accredited 4-year university.